Gelatine in dairy applications
Driven by constantly growing market demand, food manufacturers are on the look-out for products that are easy to prepare, stable over time, low in calories and contain new textures, tastes and appearances. They therefore have to use ingredients in their recipes that enable them to meet all these criteria.

The dairy industry has not escaped from this trend and new products are arriving on the market every day: yogurts, cream desserts, mousses, a variety of low-fat dairy products, cheeses, etc. Gelatine, polysaccharides or a combination of the two can provide these various dairy products with the qualities that manufacturers are looking for and consumers appreciate.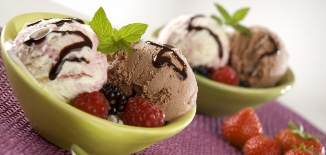 Dairy specialties (such as full-fat and fruit yogurts), cream desserts
Gelatin improves and softens the texture of the end product without changing the taste. It helps to prevent syneresis (separation of dairy product and whey).
It binds the juice contained in the fruit, preventing it from being diffused into the yogurt.

Low-fat dairy specilties (such as low-fat yogurts)
Gelatine replaces the fats, giving the products a creamy texture.

Mousses
Gelatin's frothing capacities are used in a large number of aerated products. On its own or in combination with other texturing agents, gelatine facilitates aeration, stabilizes emulsion and prevents the various ingredients from separating.
In association with carrageenan, an alkaline process gelatine is recommended to avoid precipitation of both polymers.

Ice creams and sorbets
Gelatine facilitates aeration, stabilizes the ice cream, improves low-temperature conservation and prevents the formation of ice crystals during long-term conservation. It also improves ices cream's resistances to temperature variations. Combined with other texturing agents, it gives ice cream a very characteristics texture and also slows the melting of the ice cream in the mouth.

Cheeses, spreads, margarines and low-fat butters
Gelatin improves stability, increases "life span" and gives products a creamy texture.
Considering its binding properties, gelatine increases the yield of cheese production and allows a cost saving.Gelatine improves the mouthfeel in low fat product also.
Low doses of gelatine (0.2 to 3%) are sufficient to give dairy products the required texture.